Dinu Lipatti recorded only two piano concertos for EMI – the Grieg and Schumann Concertos, both in A Minor, and both mainstays of the repertoire. While the Grieg has its more virtuosic side, somehow Lipatti's lyricism and musicality have overshadowed his more stunning technical feats in this performance, leaving pianophiles with the impression that he wasn't the kind of pianist who could play real showpieces. In the digital age and through this blog and other publications it is becoming more known that Lipatti played 23 works for piano and orchestra of all kinds. One of the works that figured in his repertoire for the longest was Liszt's First Piano Concerto.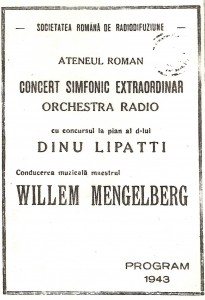 Lipatti first played the work in 1933 in Bucharest, and famously performed it with Mengelberg a decade later. Apparently when Lipatti came on the stage for the first rehearsal, Mengelberg said "Das ist kein Liszt-spieler" ("That is no Liszt pianist") – but once the pianist started playing, the conductor soon revised his assessment. Despite his rather slight appearance, Lipatti had strength in spades, and even though his approach to playing was always musical, he was capable of fireworks.
The last time that Lipatti played the work was on June 6, 1947 in Geneva, with the Radio Suisse Romande orchestra conducted by Ernest Ansermet, at a charity concert for the Red Cross. It came to my attention in 1991 that this performance had been recorded and preserved on a set of acetates owned by Lipatti's widow. I could not fathom at the time – nor can I still – why she possessed this recording yet seems to have made no effort to have it issued: there is not a shred of correspondence relating to its existence in EMI's archive. Nevertheless, along with other private recordings, these discs found their way into the hands of Dr. Marc Gertsch, a Lipatti fan in Bern who had come to the rescue of Mrs. Lipatti when the Chopin Concerto scandal had erupted (Gertsch had a recording of an authentic performance and let EMI use it once it was discovered that the recording they had released was not of Lipatti). After Mrs Lipatti died in the early 1980s, Gertsch was allowed to go into her collection and take the records he wanted; he did not take them all at once, and when he returned, those he had left were gone… meaning that there are potentially more private recordings that exist in private hands.
The copies of the Liszt Concerto were well worn, having been played multiple times, and the first record was cracked. While there was a backup reel tape, the sound was not very good on it. My colleague Werner Unger of the archiphon record label met with Gertsch in 1992 and took the recordings to remaster them. He spent hours and hours declicking and splicing the first record into an accurate representation of the performance (having heard the unedited transfer of the disc, with the needle jumping and skipping, I am in utter amazement at how he managed). We released the performance for the first time on archiphon's 'Les Inedits' box set release, which featured other unissued Lipatti performances from Gertsch's collection. Alas, some of the final mastering by one of Unger's colleagues removed some of the full-bodied sound that had previously been present in the Liszt.
In 2000, Unger and I were in discussion about Lipatti matters and I suggested he ask EMI what they had prepared for the 50th anniversary of Lipatti's death so that we could release our own commemorative CD. When it became evident that they had completely missed the occasion and not planned to issue anything, they asked us what we had that they could use, and I proposed the Bach-Busoni, Liszt, and Bartok Third Concertos as a single disc. The CD was eventually issued in early 2001, so this glowing performance of Liszt's First Concerto is now part of Lipatti's official discography. (I offered to write the booklet notes for the CD but was told that one of their regular writers would do so, and they thanked me for my interest in their project.) Alas, EMI also continued to fiddle with the engineering after we'd approved of one fine transfer, further compressing and deadening the sound.
Regardless of sonic restrictions, the performance reveals some staggering playing on Lipatti's part, displaying his unique synthesis of thorough technical command and profound, poised musicality. He has a massive dynamic range (recent digital transfers of the Grieg Concerto give a better idea) and plays with peaked phrasing, crisply defined articulation, dramatic emphasis, and elegant rubato. His tempi would be considered spacious by modern standards: in 1930s Paris, he heard Liszt's pupil Emil von Sauer play both concertos and was impressed with his slower tempi and refined approach. In the third movement, Lipatti achieves the remarkable 'bounce' heard on his legendary disc of Ravel's Alborada del Gracioso, and the cadenza in that movement (starting around 13:07 on the YouTube clip below) is the most convincing I've heard: he slows down and plays with a rumbling bass, arching the phrasing of the melody in a truly sinister fashion that seems so natural and obvious that I can't understand why other pianists haven't considered this approach.
Lipatti played the Chopin Andante Spianato and Polonaise at the same concert but a recording of that performance has not been found. It is to be hoped that it is among those that went missing from Mrs Lipatti's collection and will one day be recovered. But fortunately we now have this amazing performance of Liszt's First Piano Concerto readily available on CD, at iTunes, and on YouTube for all to enjoy.