Today is the anniversary of Dinu Lipatti's legendary final recital at the Besançon International Music Festival on September 16, 1950, so it seems a fine time to publish and discuss one of the pianist's magnificent performances from that concert: the Schubert Impromptu in G-Flat Major D.899 No.3.
EMI first issued Lipatti's performance of the two Schubert Impromptus that he played at the recital on a 5-LP French Columbia set in 1955 and then the complete recital in 1957, first on both French Columbia and Angel Records (in the US); when the performance received such universal acclaim (unanticipated by EMI management, who had resisted issuing the complete recording), it was released worldwide. Particularly noted was the fact that Lipatti played warm-up arpeggios (preluding) prior to the Bach and Mozart works in the program; however, EMI never released (for reasons completely unknown) Lipatti's preluding prior to the Schubert Impromptus or the Chopin Waltzes, despite these having been recorded and existing on the Radiodiffusion Française broadcast recording in EMI's archive.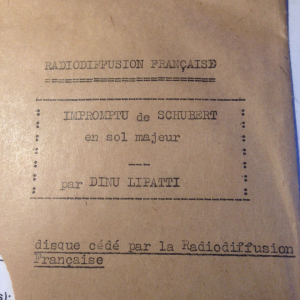 Presented in this YouTube clip is the applause and preluding prior to Lipatti's performance of the G-Flat Major Impromptu, followed by the performance of the work as issued. It should be noted, however, that the performance as broadcast and released is not exactly how Lipatti played it: there is a sudden edit with several bars missing from the broadcast tape, and in 2015 the reason why became clear when my colleague Werner Unger and I located and transferred an original Radiodiffusion Française transcription disc of this sole work from the recital.
On this original disc we can hear Lipatti hit a wrong note in the left hand, which for some reason was edited out of the broadcast performance by cutting out several measures of music (it took place during a repeated musical subject). Because EMI only had access to the broadcast tape and not the unedited transcription disc, they took the same music from a later part of the score and edited it seamlessly into the performance – the complete as-played performance has still not been aired or issued in its entirety.
But here we can hear finally hear the warm applause and exquisitely beautiful arpeggios that Lipatti played prior to his heartfelt reading of this marvellous work by Schubert, which he plays with a soaring melodic line, phrasing that breathes, wonderfully poised layering of voices, natural timing, and a burnished sonority that truly sings.
The photographs used in this video were taken by Besançon-based photographer Michel Meusy during the recital and are presented with permission of his family.